Our current offer
Our goal is to satisfy our customer needs and expectations providing complex service and offer.
You can breed your plants during whole year. Kind and sorts which we offer are accurately selected and checked in polish climate conditions. The unrooted cuttings are derived from the world-known prominent companies. Our parnters guarantee the best quality and origin.
Our partners are: AB-Cultivars from the Netherlands, Aris Green Leaf of Columbia, BallfloraPlant, Benary, Bock Bio Science from Germany, Danziger of Israel, Eagle Plants from UK, Florexpo of Costa Rica, New World Plant from the UK, PAC, PanAmerican Seed, Red Fox, Rijnbeek from the Netherlands, S.J Spijker B.V. from Netherlands, Terra Nova Nurseries from the USA, Verschoor from Netherlands, Whetman Pinks from the UK and many individual growers (the names are in alphabetical order).
All our rooted material is produced in our tissue culture laboratory and acclimatized on an area of 40 000 m2 of modern greenhouses. Good and fluently cooperation between the tissue laboratory and nursery, the capacity of the overall production and experienced staff allows us to ship excellent plant-quality. We transfer the know-how and philosophy of modern horticultural methods in respect to plant-hygiene and plant-quality to the production of our perennials. Controlled conditions, attention to details in all levels of our staff and steadiness in our procedures are the basis of the satisfaction of our customers.

From the wide range of our offer we choose only those which to our mind deserve our attention.
We offer: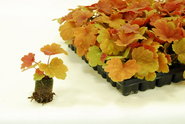 Cuttings of ornamental plants (Pelargonium, Verbena, Impatiens, Fuchsia,

Chrysanthemum, Poinsettia, Gerbera, and other bedding plants),

Seedlings of annual, biennial, perennial plants,

Seedlings of pot-plants,

Seeds of annual, biennial and perennial plants,

Young plants of perennials produced in vitro and from rooted cuttings
We invite you to check our offer and place an order!